We've released soundtrack and wallpaper downloads for Tides of Murkport's first chapter to Grizzled Hero patrons! The download links available on the unlocked Patreon post.
Contained in the release are four custom music tracks featured in the first chapter of the game, as well as 8 hi-res wallpapers.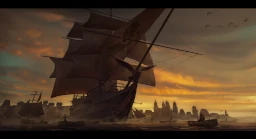 This post is a little late, due end of last month, so apologies for the delay.
Look out for more goodies coming soon, and consider supporting us on Patreon if you'd like to gain access to this, and the back catalog of exclusive posts.